Your content goes here. Edit or remove this text inline or in the module Content settings. You can also style every aspect of this content in the module Design settings and even apply custom CSS to this text in the module Advanced settings.
AR Rahman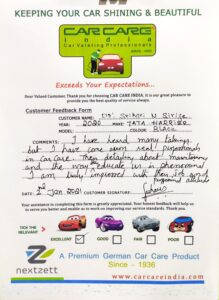 "I want my cars to look good, not just drive well, and Car Care India is my go-to place for making sure they do. I have been visiting them for 4 years now, and they always ensure the car looks even better than how I received it (new) from the showroom. Staff is professional, owner is courteous and everyone knows what they're doing."
– Mr. Siddharth Popli.

"Car Care India (CCI) has Very professional people! The quality of work has remained the same over the years! Car Care India's strength lies in their staff who are outstanding and cater to the needs without any hesitation. Thanks to Mr. Venkatesh & Mr. Suresh for handling every customer so professionally! Will be back with more cars soon! 🙂 "
– Mr Vivek Hande

"Car Care India @ Bangalore is the BEST Auto detailing place EVER!! Thanks CCI for taking personal care of my investment and amazing job done. You guys have always done a fantastic job. I highly recommend CCI for timely, affordable, courteous and immaculate service. Attention to detail is what makes you stand out from competition."
– Prashanth Srinath

"Only a real car lover will know the value of this pit stop. It may sound too much when they first detail you about the work they would be doing on your car, but when you finally go to receive your car, you dam sure will be spell bound and trust me, you won't believe that it's your car.
A place to close your eyes and trust when it comes to valeting. Wishing all car lovers and Team Car Care India a very happy and prosperous 2021." strongly recommended to every car lovers.
– Anand Iyer

I park my car on the main road and while repairing the road at night, they had smeared tar and concrete all over my car. So I googled for a decent place near by to get that cleaned and found this place.
They not only restored my car to its original state but it looked better than when I got it delivered from showroom. I got Ceramic coating done so that dust and bird droppings are easier to remove, it comes with 1 year warranty and owners promised to check on me time to time so that car is maintained well!
– Sumanth Hathwar

" I really happy with the quality and workmanship of the team,
My 12 years old Scorpio transferred to show room condition, They have complete knowledge about car detailing Fully satisfied."
– Murgesh Mudhaliyar

"CCI has a very nice place for car paint protection given my new mg car after 8 years of experience with Car Care India for my Nissan sunny car".
– Saidigital kumar